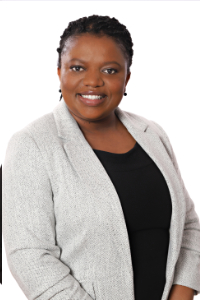 OFFICE OF THE CEO
Thobela Mayinje
Thobela Mayinje is the Acting Chief Executive Officer (ACEO) at the NFVF.
Mayinje has worked as an HR Generalist for over 14 years in various sectors including FMCG, construction and government. Mayinje's areas of expertise include Human Resource strategy formulation, building sustainable work cultures and providing effective people management support to other business units.
Mayinje has positioned herself as a change management agent, and this is evident through some of the initiatives she implemented which include putting measures in place in response to employee wellbeing during the Covid-19 era and her progressive response to developing and implementing a remote working policy.
Mayinje is currently completing her Post Graduate Diploma in Business Management and has completed her Management Advancement Programme (MAP) qualification from Wits Business School (WBS). Mayinje holds a BTech Degree in Human Resources Management from the Nelson Mandela Metropolitan University (NMMU). Mayinje also holds various certificates in Finance for non-Financial Managers; Project Management; Payroll Management; Skills Development and Employment Equity. Mayinje is also a professional member of the Institute of People Management (IPM).